---
NYCheapskate Deals
Burgers from $3.75 on the Upper West Side? Pinch me
---
Saving Big Money when Visiting Boston...
---
Great Peruvian sitdown place, offering generous portions and cheap prices.
Various locations throughout city.
---
$1 mugs on Monday and Wednesday nights! Near StuyTown!
---
$2.50 mugs of beer and $6.75 burgers on West 4th...yum!
---
$2 shots in East Village area!
Is it your birthday? Drink free!
---
Prix fix, fancy French food, for $28-$42 for up to five courses!
---
Great Hummus place in Greenwich Village
---
$300 UES spa package for just $75, plus $59 Swedish massages!
---
Mark my words, $2 bottles and a cool atmosphere await...
Right in Astor Place
---
50% off first-time visitors at NYC hair salon!
... very good deal on Upper East Side
---
$1 slices of pizza, steps from Times Square and the Port Authority
---
$1 books! Used, yes, but still amazing selection of titles and good quality books at Strand!
---
Dollar drafts Tuesday nights + 1/2 priced apps near Grand Central!
... among best deals in midtown!
---
Pasta dish for $3.50 -- uptown!
---
$4 drinks & $4 plates of hot wings
... Fashionable in the Fashion District!
---
Awesome cheap diner food on Grand Street
... in Brooklyn
---
Cheaper than the SUBWAY!
Yes, bus fares to DC, Boston, Philly and Baltimore start at $1!
---
In Brooklyn, get 2 for 1 Yuenglings and Bud Saturdays;
2 for 1 bottled beers 3-8 p.m. M-F!
---
$95 a night for charming Brooklyn B&B
Have your family stay there instead of on your pullout!
---
Great midtown Italian place that you can impress a date with, cheaply!
... Tony's Di Napoli, Broadway/theatre district
---
$2 domestics on 84th
Stop by Bailey's for this awesome deal!
---
Drink 'til 4 a.m. and gain from the "Red Eye Special"
... On the Upper East Side
---
$1 slices of pizza...
Why overpay at Famiglia?
---
How to stay free in any city in the world...
Yes, it's cheaper than a hostel ... it's free!
---
Awesome deal - $2 beers at Upper West Side bar
Jake's Dilemma, UWS
---
---
Free bottle of wine with 2 dinner entrees!
Only In Tribeca
---
Cheap massages on 28th Street!
Time to relax!
---
Aces & Eights on Upper East Side
- $2.50 Bud and Bud Lights
---
Find yourself uptown?
Try this Awesome burger place @ Lex &100
---
Upper East Side deals!
$4.99 turkey burgers; $3 beers!
---
Free pizza when you order a beer...
Crocodile Lounge is amazing and never ceases to amaze!
---
If there's something NYU students love, it's Pizza Mercato!
---
Hoboken does offer something for New Yorkers...
$1 beers every night until 8 p.m.; good values all day and all night long!
---
One of few remaining mom and pop establishments in the financial district!
Harbour Cafe offers inexpensive breakfast and lunch.
---
Laugh it up for less!
Great Upper West Side comedy show for just $10.
---
Expand your horizons --
Get cheap food including $4.50 soups, $8 salads, $15 swordfish...
---
Stock prices are up...
Burger prices aren't at Burger Shoppe! $4 burger downtown!
---
Free SANGRIA on SUNDAYS!
Cafe con Leche on Upper West Side
---
Cuban-Chinese food on UWS! Sandwiches for $5; soup for $2.35!
---
$10 pitchers up in Harlem
..... Free Friday Jazz
---
2-for-1 drinks til 10 p.m. on Lower East Side!
2/1s are KEY!
---
Queens=cheap seafood
... Also happens to be one of our favorites in the city!
---
Archive of Content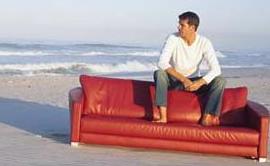 Couch surfing to Savings
How to never pay for a hotel room or hostel room again! NYCheapskate.com explores the phenomenon that's rising in this country and around the world, while making the world a friendlier place.
---
How to save more than 50% on a hotel room! ... Our tips for using Priceline, and learn how to find out which hotel you'll get when you bid!

---

Delicious breakfast, with eggs or pancakes and coffee for about $3... only in Harlem!

---

Letterman, Stewart, Colbert + more ... how to see TV's hottest shows for free

---

Great values for women's clothing right in Harlem!

---

Amazing value store in SoHo Pearl River Mart has got you covered!

---

$6.50-$7 pitchers do exist in Manhattan! Come to Tribeca to get them!

---

Good sandwiches, good service at Sanpanino off Bleecker St. Sandwiches for under $6!

---

6 beers for $20 @ Brooklyn Brewery It just feels more authentic than a regular bar.

---

Alibi Lounge -- $3 beers from 7 to 10 every night! ... Steps from NYU

---

BB&R -- different deal every night, including $3 shots, free pizza, half priced food, etc...on UPPER EAST SIDE

---

$2 Bud and Bud Lights on UES ... extended happy hour!

---

A place out of the 80s... awesome dive bar on 60th Street, steps from midtown!

---

Hell's Kitchen, also cheap pitchers! ... Rudy's Bar

---

Delicious Korean food! Very inexpensive food on 32nd!

---

Uptown & Healthy ... try this vegan place on 125th Street!

---

Free Museum Admission to the Met & Bronx Zoo... There's no such thing as a free lunch, but free admission, that's another thing!

---

Cheap Italian restaurant on East 91st! Yum Yum Yum

---

Cheap Tacos, no, not Taco Bell. On the Upper West Side

---

East Village Haircut for $5!Just don't cut my ears off!

---

Burger, fries and beer for $10 for lunch? In midtown? Wow!

---

UWS hot dogs - 2 & a drink for $4.50! Time for a wiener!

---

Cheap Chinese food in midtown! Who woulda thought? Bangkok Grand Palace

---

Delicious $6.50 burgers on the Lower East Side

---

$25 gift card to pizzeria on UWS for $10! $15 savings - not bad at all

---

2-for-1 drink specials near Wall Street @William's Bar steps from the NYSE!

---

$20 buckets; $3 Tequila -- different day, different deal ... On Upper West Side

---

Free boxing lessons in midtown Repel the thugs with some hardcore moves

---

One of the best cafes in the upper east side!

---

2-for-1's at One and One! Amazing little bar on Lower East Side

---

Cheap burger place in Harlem Jimbo's is a lifesaver

---

UES, UWS, Midtown & FiDi wrap place -- all wraps $6.95... Not cheapest place, but among most delicious!

---

Falafel without feeling awful! In Times Square area

---

Cheap falafel in W. Village -- dishes start at $3.75!

---

Awesome Indian food in East Village - $5.50 plates! Where the broke NYU students stumble into

---

Cheap Italian food in ... WEST VILLAGE ... Yes, it's not a typo.

---

Atomic WINGS, awesome taste, right price ... multiple locations throughout Manhattan!

---

Eye-opening cheap bar at South Street Seaport! Find a 12-step program afterward

---

3-course dinner & bottomless wine for $35 in midtown! Steps from Grand Central

---

$2.50 specials, plus 4 shots for $10! American Trash

---

Cheap midtown lunch & breakfast place... No fancy sitdown place; just a spot for a quick bite

---

$5.50 burgers on 13th & 9th!

---